---
Following the success of our first virtual conference in 2021, Project Haystack is delighted to announce that the Haystack Connect 2022 conference will take place May 10-12, 2022.


Last year, the virtual format made the conference more accessible to a wider audience who could enjoy a variety of discussions and educational presentations.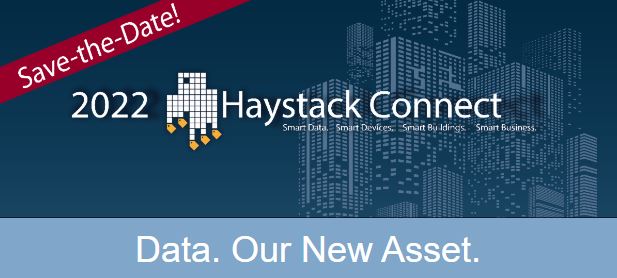 Haystack Connect 2022 continues with the virtual format and attendees can expect an extensive program of high quality content covering all aspects of our industry. This is a conference for the community, by the community, and we invite new attendees as well as expert practitioners to join us again in 2022!
Whether you are a building owner or operator, facility manager, integrator or OEM, new to Haystack or an expert, this event is for you!
At its core, Haystack Connect provides a single, open forum for professionals involved in Smart Building services to learn and share the latest technologies and techniques for connecting systems and using device data in applications such as smart buildings, energy management, remote monitoring and other IoT. devices and apps.
The theme of this year's event is "Data. Our new asset. will feature presentations from community members around the world and will focus on many areas of work, including updates on working groups, a dive into the work being done on semantic modeling technologies to foster the interoperability and of course updates on open source technologies. as Haxall (https://haxall.io/) and other projects in the community.
Building on the success of holding a free event last year, Project Haystack is pleased to invite everyone to participate and attend the conference free of charge. Mark your calendar and stay tuned for further announcements on how to sign up for www.haystackconnect.org. While on the website, be sure to check out the call for speakers (https://www.haystackconnect.org/speakers/) and sponsorship opportunities – we encourage your active participation.
Haystack Connect is a true community-driven conference that will feature a stellar lineup of technical presentations and sessions as well as a revival of the popular Haystack PitchFest. This fast-paced showcase of new products and services using Haystack technology (think "Shark Tank" for data) is always one of the highlights of the conference!
Data is our newest and most valuable asset in every aspect of our lives, and the way we as an industry deliver smart buildings and services is no exception. Effective and efficient use of data is essential to gaining a competitive advantage in our industry. Join Project Haystack for Haystack Connect 2022 and learn how data is our newest and greatest asset.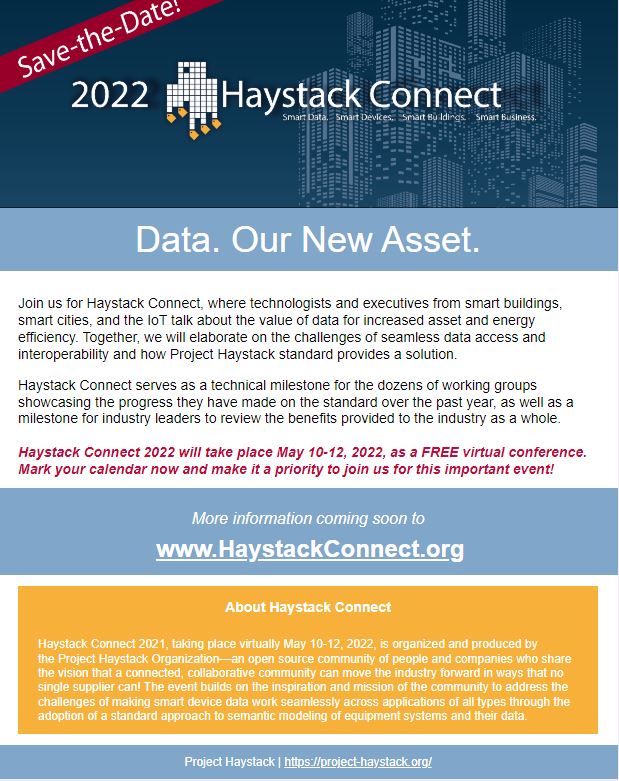 ---
[Home Page] [The
Automator] [About] [Subscribe
] [Contact
Us]