After having to cancel the in-person event in Hong Kong due to the continued effects of the pandemic, the International Association of Amusement Parks and Attractions (IAAPA) hosted IAAPA Expo Asia 2022 virtually on June 21-22, 2022.
It was the APAC region's first on IAAPA's new online platform, Connect+. This allows attendees and speakers to engage with the wider Expo network.
The event brought together industry professionals from across APAC and beyond. This was done through discussions and panel discussions focused on reshaping and reinventing the attractions industry in Asia. Participants were welcomed by June KBExecutive Director, Asia-Pacific Operations, IAAPA at the event.
IAAPA Expo Asia 2022
One session included speakers Sonaal ChopraGroup Chief Executive Officer at The Entertainment and Education Group (TEEG), Ken MerlanChairman of IAAPA and Chairman of Whitings Food Concessions Inc., and Anna DanauDirector of Strategic Engagement for International Ride Training LLC.
TEEG has over 320 FEC attractions in 7 countries. It sees over 10 million guests every year with a large market share. In fact, according to Chopra, 1 in 50 Australians would have attended or gone to a party at a TEEG TimeZone attraction in 2021.
When attractions around the world closed, the Chopra team pivoted to review big data across all of their attractions. They then considered how they could use this information for their growth. "We focused on our digital strategy. We analyzed our guests, we spent time studying their behavior, their gambling habits," Chopra said.
recovering from the pandemic
"We launched our mobile application which is also part of our CRM strategy. We truly believe this is the gold standard of engagement with our customers and a good e-commerce tool."
The keynote addressed the labor shortage in the industry, with Whiting noting how difficult it is to attract talent currently in the USA. According to Chopra, this is not the case in the APAC region where they have had a strong return to work. Both agreed that it was important to support employee mental health in the workplace.
After several years of recovery from the pandemic, the industry as a whole is almost back to 2019 attendance levels according to statistics from Leisure Development Partners (LDPs)), especially in the United States and Europe. The exceptions are countries like Vietnam or New Zealand which have had longer and stricter lockdowns, with slightly more reserved visitors according to Chopra.
In the Middle-East
Yael CoifmanLDP's founding partner spoke specifically about trends affecting the Middle East region, where LDP has worked extensively.
"During the pandemic, there were declines of 60-80% in international tourism 2019-2021 for the Gulf countries. They had to refocus on domestic tourism," says Coifman. "Across all continents of the world, domestic tourism spending has increased. It changes the way we have to develop new attractions."
"There is frustrated demand, which has led to the highest per capita spending ever, and shows the importance of retail and F&B outlets in your attraction," Coifman said.
This reliance on domestic tourism has been reflected in Amir Zishan, Co-Founder and Managing Director, Session of ZRG Adventures and Consulting in his experience in Singapore. "We had to attract the domestic market. Now attractions have a database of local guests to market future pop-up events. The key is to stick to this strategy – involve locals as well as tourists," Amir said.
Edutainment in China
In his panel at IAAPA Expo Asia 2022, Chris Yoshii, Vice President of AECOM Asia Co Ltd. talked about the main trends affecting the Chinese market.
According to Yoshii, 73% of families with children aged 0-5 have visited more than 3 types of attractions in the past 3 years. "We've seen the rise in spending in the family market. Particularly in southern China," Yoshii said. "The average expense was $50 to $70 per person per day for them, a substantial amount of money."
"Educational entertainment is big in China – they want to take kids out to have fun and learn something," Yoshii said.
Families with older children spend even more (over $70 per day per person), are particularly drawn to technology and interactive games.
Gen Z (13-27) is all about creating content, videos, and Instagrammable moments. At the other end of the scale, the rapidly growing over-65 population in Korea and Japan is interested in wellness and restorative attractions.
Hong Kong Disneyland and the pandemic
In a keynote presentation at IAAPA Expo Asia 2022 sponsored by Vekoma, Tim SipkoSenior Vice President of Operations, and Michael E. Moriaty, general manager of Hong Kong Disneyland Resort spoke about the park's actions during the pandemic as well as its latest inclusivity initiatives.
The park has more than 6000 employees, from 36 countries. The park's customers are 1/3 from Hong Kong, 1/3 from mainland China and 1/3 from internationals around the world. With such diverse cultures, it is important that everyone feels welcome in the parks.
Disney recently added the 5th Disney Key – Inclusion. It is a set of initiatives that informs and guides the staff that operates across the Disney Company. This includes relaxing the "Disney Look" to now allow tattoos, gender-neutral uniforms, body piercings and beards as well as the creation of the Diversity, Equity, Accessibility and Inclusion Committee which is bringing changes to Hong Kong Disneyland.
"It's the right thing to do. But it's also important that we are relevant to the widest audience possible," Moriaty said.
The power of intellectual property
A session with Linda Dong, president of China Leisure, discussed the power of intellectual property in the Chinese market. Dong's company partners with brands and IPs to create experiences of all sizes across mainland China, including the new Nickelodeon Playtime in Shenzhen with Paramount.
"It's about finding out what's good for an IP address and what's not," Dong said. "A lot of IPs want to do smaller-scale pop-ups or mall anchors. That's because you can open a lot more in less time," Dong said.
Working with a brand brings a whole group of fans, but the key according to Dong is in the marketing. "Branded IP products stand out. You may not be the biggest square meter, but you can have the most traffic on TikTok or Redbook. We have people driving 4 hours to get to Nick Playtime," Dong said.
Attendees at IAAPA Expo Asia 2022 then heard about Alain Mahoney, Executive Director, SEVEN and Alan KwokDirector, Park and DisneyTown Operations, Shanghai Disneyland Resort on reimagining entertainment businesses.
The importance of OTAs
According to Mahoney, the pandemic has not changed the design of the giga project in Saudi Arabia. However, it proved difficult to bring suppliers and designers together for development. Mahoney also stressed the importance of online travel agencies (OTA) in an attraction's marketing plan. "WeChat changed the game for us. The OTAs basically take care of the ticketing for us, we have to go talk to the OTAs first before we talk to the ticketing people".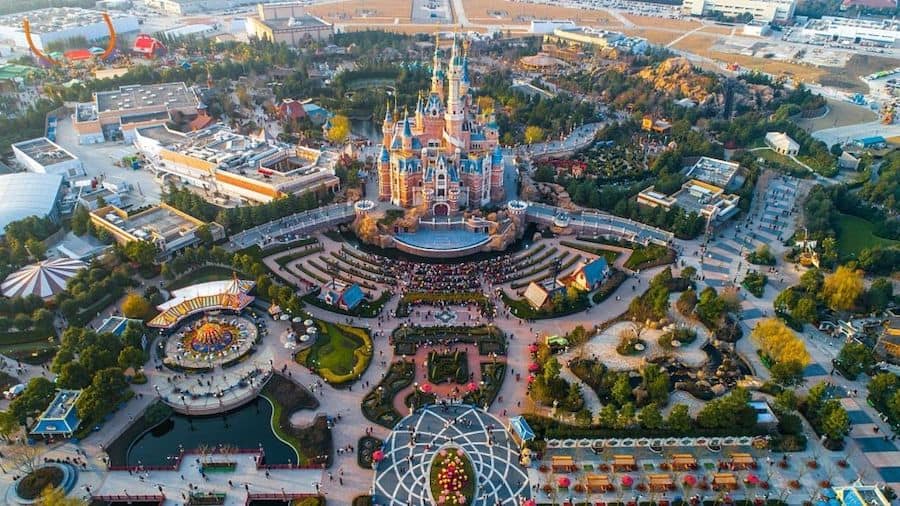 There was a session with two Young Professionals: Guilia Barberoentertainment director, Syntropy of the project and Field Ricky, Director of Operations – Theme Parks and Experiences, Resorts World Genting. Field and Barbero spoke about the opportunities for young professionals in the industry. They also discussed how to get more involved through the IAAPA WeChat and Slack channels.
Ron MartinSenior Vice President and Director of Research and Development at Panasonic Hollywood Labs; Roberta Perry, President, Roberta Perry and Associates; and Eric EisenbergVice President of Hospitality, Pürlin, LLC spoke about sustainability in the attractions industry.
History and recovery
There were also oral history sessions at IAAPA Expo Asia 2022. These were from mario mamonChairman and President of enchanted kingdom in the Philippines; Rachmat SutionoPresident, PT Funworld Prima, Indonesia; Tony Sze, Senior Group Advisor, Chimelong Group; and Bernard HarrissonBernard Harrison and Friends Ltd, Singapore.
Participants could also meet virtually, go on a treasure hunt and have a virtual EduTour of the M+ Museum in Hong Kong.
The event ended with a message from Peter van der Schans. He is the new general manager and Vice President of IAAPA Expo Europe. Schans has invited attendees to join IAAPA Expo Europe to be held September 12-15, 2022 in London, with registration open now. Registered participants can
The next IAAPA event in the Asian region will be the IAAPA APAC Business Summit 2022, held October 17-18 in Bangkok, Thailand. The two-day event will feature panel discussions, presentations, tabletop exhibits and networking with industry peers.
The IAAPA Expo Asia event will be held in person in Singapore from June 13-16, 2023.